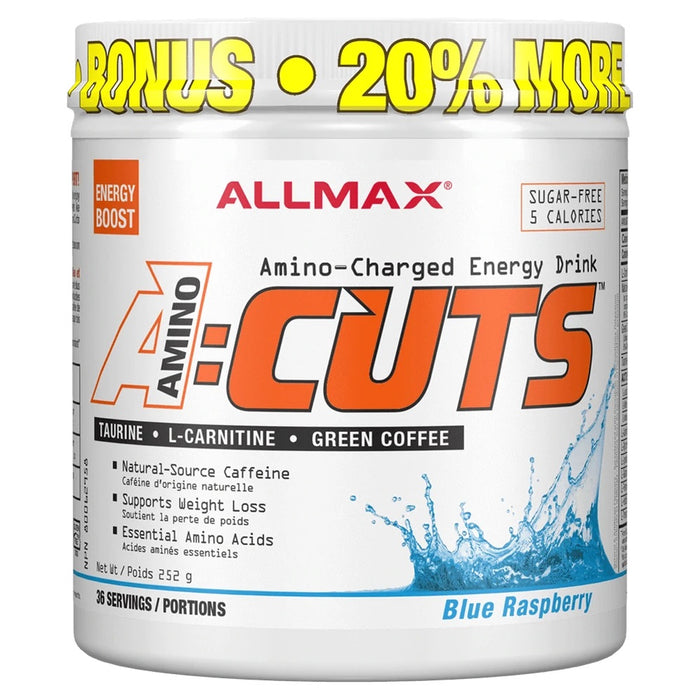 Allmax Amino Cuts, 36 servings
Save

0

%
Save

0

%
Original price
$24.95
-
Original price
$24.95
Allmax A:Cuts Amino-Charged Energy Drink! Formulated To Provide Energy, Focus And Diet Support In Conjunction With A Sensible Diet, Exercise And/Or Physical Activity!
Energy To Train, Aminos To Maintain and Diet Support!*
4.2g Amino Acids!*
Sugar-Free and Only 5 Calories!*
Green Coffee Extract & CLA!*
Natural-Source Caffeine!*
AminoCuts could be the most delicious drink mix we've ever made. Perfect to enjoy anytime, easy to mix, full of aminos and loaded with diet-friendly ingredients like natural-source caffeine (125mg), taurine, CLA and green coffee extract -AminoCuts is ideal anytime you need an energy boost! Formulated to provide energy, focus and diet support in conjunction with a sensible diet, exercise and/or physical activity. AminoCuts is the ideal combination of ingredients designed to provide energy for training while maintaining muscle mass, all the while support a fat burning diet!*
THE POWER OF TAURINE
AminoCuts provides you with energy to burn! Fortified with natural-source caffeine, green coffee extract and CLA, AminoCuts will supercharge your workout with the added benefit of focused fat loss. What's even better is the addition of 2000mg of Taurine, a non-essential amino acid, and one of the most abundant amino acids in the body that can be found in the central nervous system, white blood cells, the brain and skeletal muscles. Taurine aids in the metabolization of fat, and is also known to improve insulin sensitivity and boost your mood!* It can help improve exercise performance and body composition. Taurine acts as a metabolic transmitter and is important for brain metabolism. It stabilizes the heartbeat as it is an inhibitory neurotransmitter, which helps to improve focus during training.*
FORTIFIED WITH 500MG OF CLA
CLA is a remarkable dietary supplement derived from sources like safflower and sunflower oils, and found naturally in grass fed meas and dairy as well as the yolk of an egg. CLA works to reduce body fat by preventing fat accumulation in fat cells. Fat normally enters the fat cell through a door that is controlled by an enzyme that acts like the key. By acting on this enzyme, CLA keeps the door locked. When the door is locked, fat cannot enter the cells and they are prevented from increasing in size. The less fat present in the cells, the smaller and less mature they become. This helps to reduce the level of fat in your body. The increased breakdown of fat helps to fuel and preserve muscle mass, which in turn increases lean muscle mass.*


Shop our 100% secure server and get your supplements in Canada at the best prices everyday!