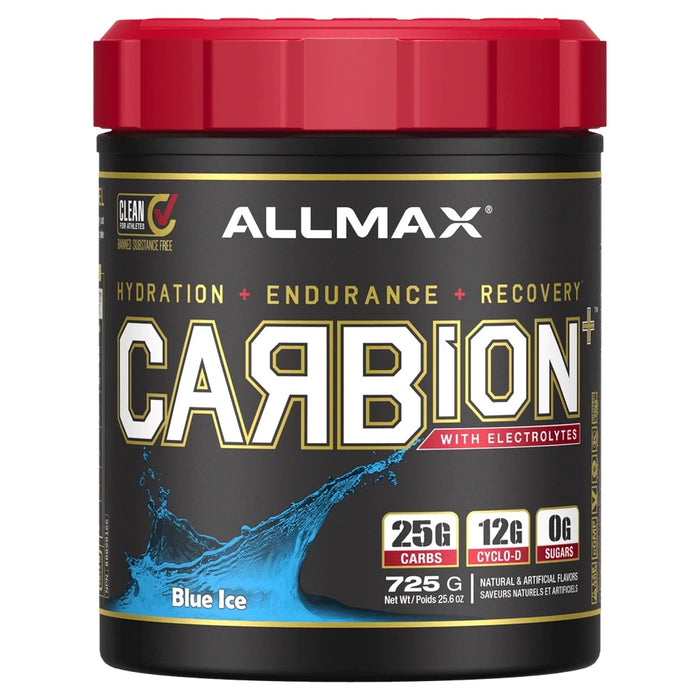 Allmax Carbion, 30 servings
Save

0

%
Save

0

%
Original price
$44.95
-
Original price
$44.95
New CARBION+ with Electrolytes – Hydration, Endurance and Recovery
CARBION+ HIGH PERFORMANCE TRAINING FUEL
KEY BENEFITS OF NEW CARBION+ WITH ELECTROLYTES
• More Refreshing – CARBION+ has been reformulated with a highly soluble carbohydrate blend that mixes easily and results in a clear, refreshing, incredibly delicious drink that will crush your thirst. A perfectly balanced blend of multiple forms of electrolytes has eliminated the salty, metallic taste often associated with high electrolyte levels so each sip leaves you feeling refreshed and your thirst quenched.
• Better Hydration – The electrolyte blend has been ramped up with more of the 4 key electrolytes that you need to stay hydrated during intense exercise. In addition, the source of these electrolytes has been optimized for improved absorption. Utilizing bicarbonate and citrate forms in addition to the more typical chloride forms results in improved absorption as well as improved taste.
• Fuels Improved Performance – The Phased Delivery Energy Blend was designed to provide fuel for your entire workout without the energy crash associated with sugar based sports drinks. Tests performed with high performance athletes during training has confirmed up to 50% improvement in stamina as well as a reduced perception of fatigue.
• Faster Recovery – Most athletes understand the importance of protein for recovery but the importance of carbohydrates is not as well recognized.
Allmax Carbion + Electrolytes New Formula Supplement Facts