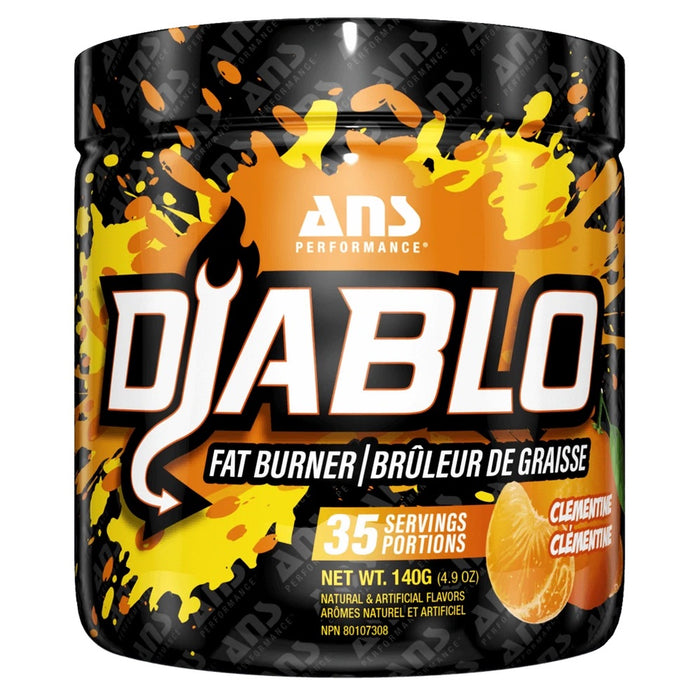 ANS Performance Diablo V3, 35 servings
Save

0

%
Save

0

%
Original price
$39.95
-
Original price
$39.95
NEW DIABLO!
New & improved DIABLO is now more powerful than ever! With a 60% larger serving size, DIABLO delivers amplified performance and weight management support.
Increase energy, mood & motivation

Enhance metabolism to naturally burn more calories
Supports muscle recovery and repair with training

New ingredients like next-gen KINETIQ™ elevate performance
Available in 6 mouth-watering flavours that will kick start your taste buds & your workout!
35 servings per container
DIABLO INGREDIENT SCIENCE
L-Carnitine: Responsible for the transport of fats into the cells to be used for energy in the body. By raising muscle carnitine levels, you support the fat burning process, and as the body becomes more efficient at processing fuel, it will increase energy levels. Elevating carnitine will also improve physical performance by burning more fat, sparing glycogen, clearing muscle lactate, and increasing anabolic hormone response.

Garcinia Cambogia extract: The highly soluble form of the amino acid L-Tyrosine, and an important precursor in the production of epinephrine, dopamine and norepinephrine. These hormones contribute to elevated energy, mood and mental alertness.

Choline Bitartrate: The combination of caffeine, carnitine and choline supplementation can decrease body fat and serum leptin concentration, and also increases fat utilization for energy. Leptin is a protein hormone that regulates energy intake and expenditure, including appetite and hunger, metabolism and behavior. Choline plays a role in the oxidation of fatty acids, carrying them out of the liver and to the mitochondria of skeletal muscle cells and other metabolically active tissue.

Green Coffee Bean: The chlorogenic acid found in unroasted green coffee beans has been shown to inhibit an enzyme, glucose-6-phosphatase, an enzyme involved in the release of sugar for energy use. By inhibiting the availability of glucose for energy, the body then is forced to turn to alternate sources of fuel, namely fats. The end result is safe and effective weight loss and a change in body composition by tricking your body into preferentially using fat as fuel.

ADILASE™: An exclusive specialized extract of Hemerocallis fulva, designed to maximize the release of fat from stubborn cells. ADILASE™ helps stimulate fat cells to release fat into the bloodstream. Many people struggle to lose fat with 'typical' high-stimulant fat burners due to a condition called lipolytic catecholamine resistance, which means that their fat cells do not readily release fat when stimulated to do so. When ADILASE™, is combined with caffeine, it improves the lipolytic (fat releasing) sensitivity in low-responding fat storage cells, indicating that the lipolysis-promoting activity of this combination may be beneficial for improving body fat metabolism.
THE DIABLO INFERNO COMPLEX
Caffeine Anhydrous: A potent CNS Stimulant, caffeine triggers fat cells to break down and release fat by increasing output of epinephrine. It also increases metabolic rate, improves athletic performance and helps reduce appetite. DIABLO contains 150mg of caffeine per scoop.

KINETIQ™ Citrus Aurantium + Hesperidin + Naringin: this a next generation version of natural synephrine. Researchers have paired this powerful fat burner with citrus bioflavonoids to enhance its absorption. KINETIQ has been shown to enhance base metabolic rate and improve exercise performance!

6AM™ – Aframomum melegueta extract: A specialized extract of 'Grains of Paradise', the fat fighting potent seeds from Africa. Clinical trials exploring the weight loss benefits of 6AM™ found that it can significantly increase energy expenditure and loss of brown adipose (fat) tissue. One of the key ingredients involved in the thermogenic response is 6-paradol, a pungent aromatic ketone also found in ginger.

Evodia fruit extract: The capsaicin-like alkaloid evodiamine is found in Evodia fruit, and it acts as a vanilloid receptor agonist, without the peppery hot taste. Like capsaicin, Evodiamine increases body heat production and raises resting core temperature, increasing the calories and fat that are burned for energy. The stimulant and appetite suppressant effects of evodiamine can be attributed to its effects on catecholamine levels. Evodiamine increases the release of catecholamines such as adrenaline and dopamine from the adrenal glands, increasing energy levels and decreasing appetite.

Olive Leaf Extract (20% oleuropein): Olive leaves have been known to possess hypoglycemic, hypotensive-diuretic and antioxidant properties; as a result olive leaves reduce fat load and circulatory fat levels. In a recent animal study, oleuropein increased noradrenaline and adrenaline secretions, as well as uncoupling protein 1 levels in brown adipose tissue, leading to increased thermogenesis. Additionally Oleuropein is believed to enhance the conversion of the thyroid hormone T4 (thyroxine) into the more potent form T3, which has a 3-5x more active in its roles at augmenting base metabolic rate. 
DIABLO SUPPLEMENT FACTS & DIRECTIONS

DIRECTIONS:
Shake container well before opening. Mix 1 scoop of DIABLO with 6-8 oz of cold water. Take DIABLO twice daily in between meals on an empty stomach, or prior to training.

DIABLO is a great option to take before a cardio or resistance training session to boost energy, get a better sweat and improve recovery.