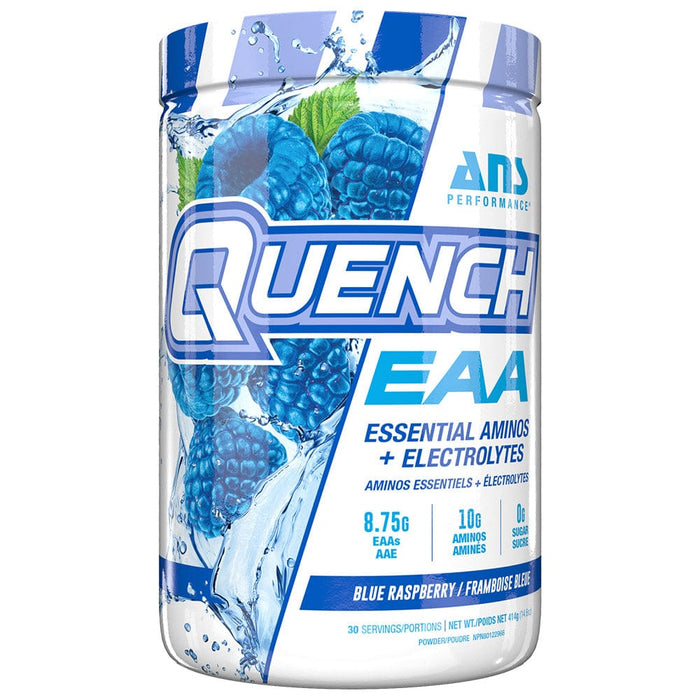 ANS Performance Quench EAA
Save

0

%
Save

0

%
Original price
$39.95
-
Original price
$39.95
Elevate Your Workout Performance with ANS Quench EAA
Unlock the potential of your workouts with ANS Quench EAA, the ultimate blend of essential amino acids and electrolytes. Each scoop delivers a remarkable 10g of total amino acids, including a substantial 8.75g of EAAs and muscle-boosting 7g of BCAAs.
Fuel Your Fitness: Quench EAA is tailored for athletes striving to enhance lean muscle mass and accelerate recovery. With its sugar-free, carb-free, and calorie-free composition, it's the perfect choice for those who demand both performance and purity.
Natural Excellence: Our formula boasts natural flavours and contains no artificial colours or dyes. Plus, it's fortified with the goodness of coconut water and Himalayan sea salt, providing natural hydration and staving off fatigue.
Energizing B Vitamins: Quench EAA doesn't stop at amino acids; it's also enriched with energizing B vitamins, ensuring you stay revitalized throughout your training sessions.
Electrolyte Powerhouse: Quench EAA is further enhanced with a potent blend of electrolytes, including potassium and magnesium citrate, coconut water powder, and Pink Himalayan sea salt. These electrolytes play a vital role in maintaining proper muscle function, hydration, and preventing cramps during intense workouts.
Potassium & Magnesium Citrate: These electrolytes assist in muscle contraction, nerve function, and regulating fluid balance in the body.
Coconut Water Powder: Packed with natural potassium and hydration-boosting properties, coconut water helps replenish lost fluids and essential minerals.
Pink Himalayan Sea Salt: Known for its rich mineral content, this salt helps maintain electrolyte balance, keeping you energized and focused.
Experience the transformative power of ANS Quench EAA and elevate your workouts to new heights. Discover the ideal companion for building muscle, improving recovery, and staying hydrated naturally. Upgrade your fitness journey with Quench EAA and redefine your limits.