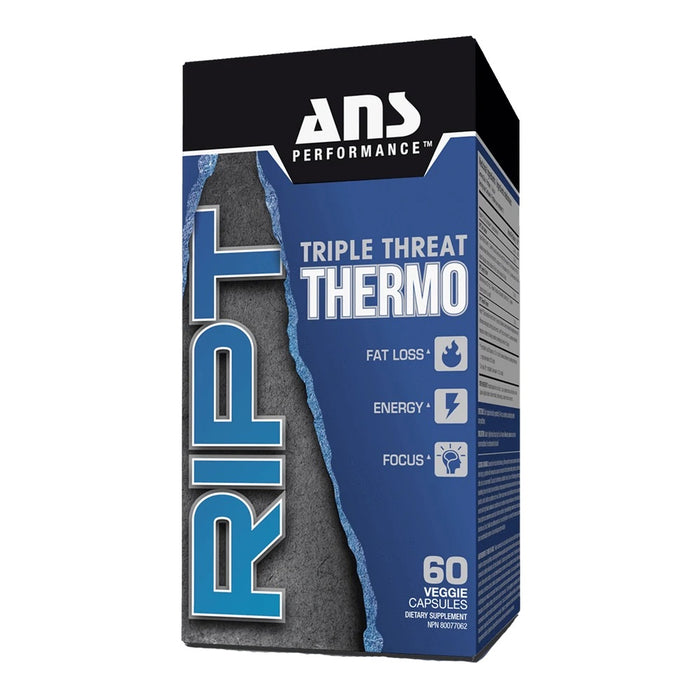 ANS Performance RIPT, 60vcaps
Save

0

%
Save

0

%
Original price
$49.95
-
Original price
$49.95
If you are looking for a super concentrated thermogenic 1 vcap a day fat burner, than you need to get ANS RIPT Triple Threat Fat Thermo
ANS RIPT is the ultimate triple threat to unwanted fat. It is designed to provide long lasting energy, potent free-radical fighting antioxidants to revitalize your body and natural thermogenic ingredients that help your body burn fat for fuel.
Bringing together several powerful ingredients found in nature, RIPT can help sculpt your physique: Organic Matcha Green Tea, a potent source of natural antioxidants, Theanine and Teacrine® for sustained no-crash energy, and the next-generation thermogenic patented ingredient combination KINETIQ™, which promotes increased metabolism and exercise performance. All of this is wrapped in 1 convenient and concentrated veggie capsule, making it easy to use and take with you on the go.
Triple Tea Complex featuring Organic Matcha Green Tea
Energize, Revitalize & Support Weight Loss
Loaded with Natural Antioxidant Polyphenols
Featuring the Patented Enhanced Thermogenic KINETIQ™
Long lasting and no crash energy & focus with L-Theanine & Teacrine®
Concentrated & convenient 1 capsule dose
Each bottle is a full 1 month supply
Directions: To assess tolerance, start by taking 1 capsule in the morning with a glass of water for the first 2-3 days. Once comfortable, proceed to take 1 capsule in the morning, and 1 capsule again in the afternoon. DO NOT exceed 1 capsule per serving. DO NOT exceed 2 capsules in a 24-hour period. For best results take RIPT combined with proper diet and training. Do not take within 5 hours of bedtime to avoid sleeplessness. Read entire label before use.
Warnings: Not intended for use by persons under 18. Do not use if pregnant or nursing. Consult a medical doctor before use if you have been treated for, or diagnosed with any medical condition, or if you are taking a MAOI (Monoamine Oxidase Inhibitor), or using any prescription or over-the-counter drug(s). Discontinue use and call a medical doctor if you experience unusual symptoms. This product contains caffeine. Caffeine sensitive individuals may experience the following symptoms including (but not limited to) restlessness, tremors, headache, anxiety, palpitations, increased heart rate, or difficulty sleeping. Do not combine with other sources of caffeine. Consult a medical doctor before starting any diet or exercise program. Do not exceed recommended serving. Improper use of this product will not improve results as is not advised. Use only as directed. Store in a cool dry place. KEEP OUT OF REACH OF CHILDREN.
* These statements have not been evaluated by the Food and Drug Administration. This product is not intended to diagnose, treat, cure, or prevent any disease.