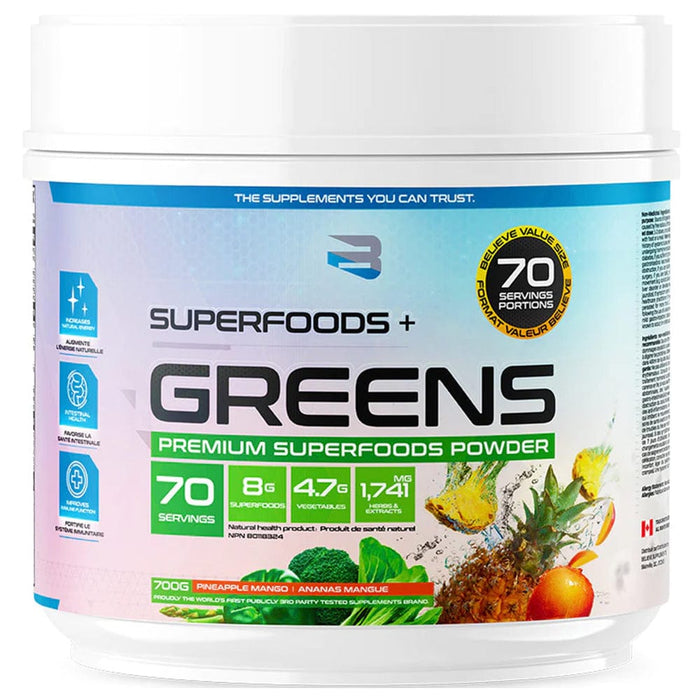 Believe Superfoods + Greens, 70 servings
Save

0

%
Save

0

%
Original price
$89.95
-
Original price
$89.95
Elevate Your Well-being with Believe Supplements Superfood + Greens
Discover the Difference: Believe Supplements Superfood + Greens stands out as one of the top-selling greens supplements, coveted for its multitude of benefits. Elevate your immune system and empower your vitality with this exceptional formula.
Green Power: Supplementation with greens has been shown to boost energy levels, aid in recovery, enhance antioxidant status, and support bone health. It's your key to achieving a more balanced and vibrant life.
A Wholesome Blend: Our product is a potent blend of Enzymes, Antioxidants, Prebiotics, and Fibers, meticulously selected to promote overall health and amplify your natural energy levels.
More Servings, More Value: With an impressive 70 servings per container, Believe Superfoods + Greens ensures you get the most value from your greens supplement. Elevate your well-being and embrace a healthier you.
Unlock the potential of your health journey with Believe Supplements Superfood + Greens. Elevate your energy, fortify your immunity, and revitalize your life. Choose the path to well-being, starting with each serving of Believe Superfoods + Greens.