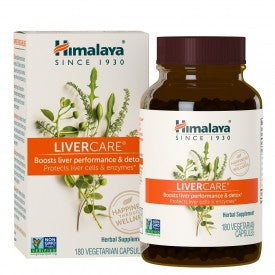 Himalaya LiverCare, 180 Vegetarian Capsules
Sold out
Original price
$54.95
-
Original price
$54.95
No
Additives, Magnesium Stearate, Yeast, Wheat, Gluten, Corn, Dairy Products, Preservatives or Ingredients of Animal Origin.
LiverCare®
assists normally functioning liver cells; it has natural antioxidant properties that support liver cell integrity and is a formula which assists in preserving existing liver strength when dealing with occasional overwhelming challenges. Keep in mind, the liver is the largest internal organ and it is important the liver is functioning on a normal level when performing more than 500 different functions.
LiverCare®
has enormous health benefits for everyone.

Supports liver cell regeneration, healthy liver enzyme levels and acts as a daily super food for the liver.
Clinically proven to preserve normal hematological and biochemical safety parameters within the liver, and to preserve the structure and function of liver cells. Brings expected results in a relatively short period of time and can be used safely by everyone on a daily basis.
 
Directions for use
Take 1 capsule twice per day before meals.
Allow several weeks for full benefit and lasting results. The use of natural products provides progressive but long-lasting results.

Scientific Validation
LiverCare® has been subjected to clinical toxicity/safety studies and trials.
Key Ingredients
Caper Bush
Chicory
Yarrow
Tamarisk
*Himalaya Gluten Free products are batch tested and identified with a green Gluten Free sticker.