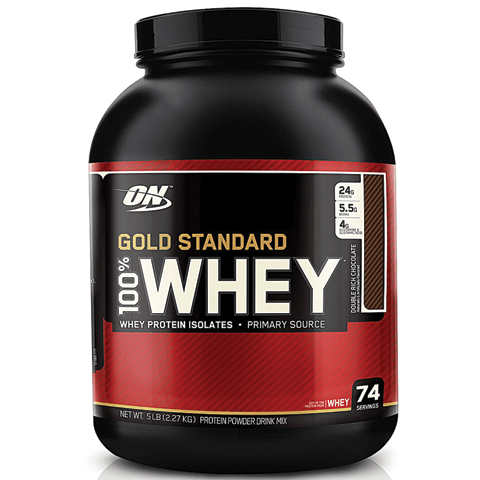 Optimum Gold Standard 100% Whey Protein, 5 lbs
Save

0

%
Save

0

%
Original price
$125.95
-
Original price
$125.95
Since the very beginning, Optimum Nutrition has raised the standard by which all other whey protein supplements are judged. Now we're raising the bar again with the 3rd generation of ON 100% Whey Protein: ON 100% Whey Gold Standard.
Like its predecessors, this canister of Optimum Nutrition 100% Whey Gold Standard contains Optimum Nutrition's exclusive, proprietary blend of...
Microfiltered Whey Protein Isolates
Ion-Exchange Whey Protein Isolates
Ultrafiltered Whey Protein Concentrate
HydroWhey Hydrolyzed Whey Peptides
Whey protein is popular with active adults because it digests rapidly and is a rich source of amino acids to support muscle recovery. Whey protein isolates are the purest form of whey and the primary ingredient in Gold Standard 100% Whey. Each serving provides 24 grams of rapidly digesting whey protein with low levels of fat, cholesterol, lactose and other stuff you can do without. There's no doubt this is the standard all other proteins are measured against.*
More of What You Want, Less of What You Don't
To give you more of what you want (pure, unadulterated whey protein) with less of what you don't (fat, saturated fat, cholesterol, lactose, and other carbohydrates) with every serving. This whey protein supplement is no exception. In fact, Optimum Nutrition 100% Whey Gold Standard is better than ever! Here's why:
Optimum Nutrition 100% Whey Gold Standard provides more whey protein isolates (WPI) - the purest and most expensive source of whey protein available.
Higher protein percentage. ON's 100% Whey Gold Standard has always been a leader in this respect. Now with 24 grams of protein in just slightly over one-ounce serving, it's nearly 79% protein by weight!
We've included more HydroWhey strategically hydrolyzed, low molecular weight whey peptides to make Optimum Nutrition's 100% Whey Gold Standard even faster acting!
Optimum Nutrition's 100% Whey Gold Standard is instantized to mix easily and completely with just a few twirls of a spoon.
Every serving supplies even more low, moderate, and high molecular weight, biologically active whey protein microfractions including Alpha-lactalbumin, Glycomacropeptides, Beta-lactoglobulin, Immunoglobulin G (IgG), Lactoferrin, lactoperoxidase, and various growth factors.
5 grams of BCAAs (leucine, isoleucine, and valine) in each scoop!
Optimum 100% Gold Standard Whey Highlights:
Packed with Whey Protein Isolates
Higher Pure Protein Percentage
Fast-Acting HYDROWHEY Whey Peptides
Provides Whey Protein Microfractions
More than 5 grams of BCAAs per serving
Instantized to Mix easily with a Spoon
Optimum Nutrition 100% Whey Gold Standard FAQs:
Can I use ON 100% Gold Standard Whey in my post workout shake?
Optimum Nutrition whey is ideal for post workout nutrition. It's loaded with BCAAs, and it's low fat content and high protein ratio means it is absorbed fast!
Can I mix ON 100% Whey Gold Standard with other supplements?
Yes. In fact, you can increase the effectiveness of Optimum Nutrition Whey by adding Glycomaize or simple carbohydrates to your post workout shake. Always read the supplement label before use.
What is a whey protein blend?
Optimum Nutrition 100% Gold Standard Whey Protein is a whey protein blend. This means it is made from Whey protein isolate (WPI), whey protein concentrate (WPC), and whey peptides. Blending whey proteins allows Optimum Nutrition to get the perfect mix of protein and BCAAs.
Can Optimum Nutrition Whey be mixed with milk?
Absolutely. Optimum Nutrition whey mixes easily with milk or water using a spoon, shaker bottle, or blender. In addition, ON Whey is instantized to help it mix faster and easier!
Shop our 100% secure server and get your supplements in Canada at the best prices everyday!